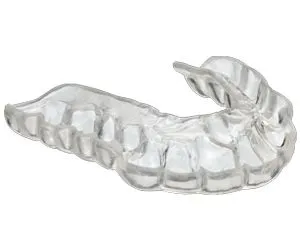 Do you clench your teeth while you are sleeping? Do grind your teeth while you are sleeping? There is a device that will fit over your teeth while you sleep with the goal of reducing night grinding, bruxism , tooth wear, tooth sensitivity, tooth mobility, joint pain, muscle pain or even recurring lockjaw symptoms .
The biting surface of the device can be custom-designed to address your specific issues. For example, it may include inclines or ramps to strengthen unstable TMJ ligaments or displaced discs. Your dentist also will be able to make modifications to the device as your mouth adjusts to the guard and the treatment it provides.
Bite splints can make a world of difference for your bruxing and grinding patients, alleviating pain and preventing further destruction of existing healthy dentition. The Comfort H/S™ Hard Soft Bite Splint is the most widely prescribed bite splint due to its comfort and fit. Two layers make up the Comfort H/S Bite Splint: a 1 mm soft, comfortable polyurethane inner layer and a 3 mm hard, durable copolyester outer layer. The soft internal surface rests comfortably against the teeth and gums, while the hard occlusal surface provides durability and bonds with acrylic for easy modification.
Call us today at (205)625-4384 or Request an Appointment to schedule your Free Consultation to see if you are a candidate for the Nite Guard.